Looking for more great gift ideas? Check out our ideas for holiday gifts for writers.
There's a lot of junk out there for teen readers. In the past ten years, the industry of young adult (YA) fiction has changed, often producing low-quality novels. It's hard to find a good gift for the teen reader who just wants to read something great. This holiday, find something that's really worth their time. We've compiled a list of classic YA novels that are actually worth reading here.
Matt's Recommendation:
The Absolutely True Diary of a Part-Time Indian by Sherman Alexie
"I grabbed my book and opened it up. I wanted to smell it. Heck, I wanted to kiss it. Yes, kiss it. That's right, I am a book kisser. Maybe that's kind of perverted or maybe it's just romantic and highly intelligent."
Sherman Alexie might not seem like your first choice for a young adult book (what, was Anne Coulter busy?), but what he's done with The Absolutely True Diary of a Part-Time Indian, which I'll refer to as Diary from now on because carpal tunnel is a thing, can't be overstated. It's this great mix of Roald Dahl illustrations and Diary of a Wimpy Kid humor mixed with A Wrinkle in Time social commentary that allow you to take the book at face value in one read-through and explore its complexity in the next. I read it in college, and we wound up spending three hours talking about the events and why kids (the majority of whom presumably aren't struggling through life on a reservation) might relate to it. Long story short, pick up the book.
Heather's Recommendation: Tuck Everlasting by Natalie Babbitt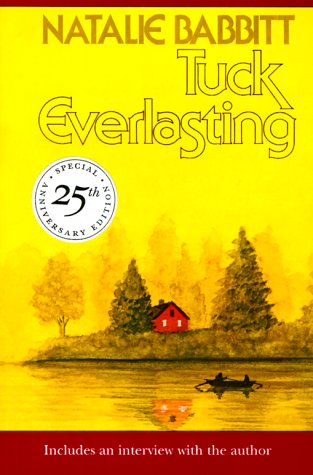 "Don't be afraid of death; be afraid of an unlived life. You don't have to live forever, you just have to live."
Way back when, many of us were required to read Natalie Babbitt's Tuck Everlasting. This easy read follows Winnie Foster and the Tuck family as Winnie begins to explore the concepts of family, love, and life's temporal nature. Babbitt applies elements of magic and fantasy to draw attention to real-life fear, including the fear of time, chronophobia. Through the Tuck family, she helps the reader to understand the implications of living forever and the importance of living a full life. The beautifully written book is intended for a younger set, grades 3-5, but speaks to a larger audience; I'm 27, and I read this every few years.
Mindy's Recommendation: The Golden Compass by Philip Pullman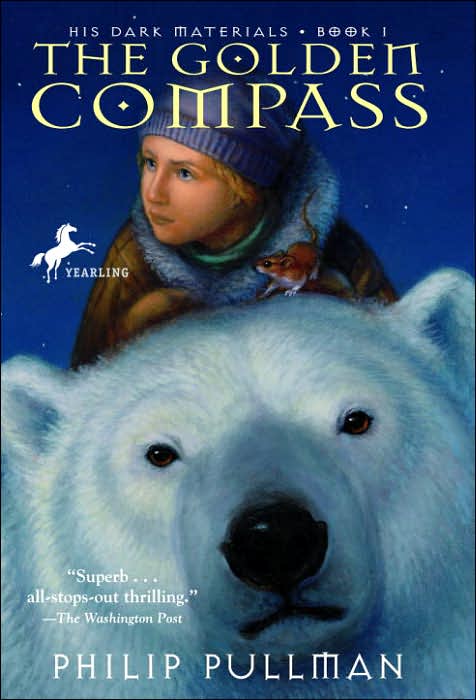 "One moment several things are possible, the next moment only one happens, and the rest don't exist. Except that other worlds have sprung into being, on which they did happen."
In a version of England run by an international theocracy known as the Magisterium, Lyra Belacqua lives a carefree life on the grounds of Jordan College until her uncle, Lord Asriel, returns from a trip to give a lecture on Dust, an unusual and mysterious type of particle linked to a gateway to an apparent parallel universe. Asriel seeks funding at the college to study this phenomenon and this newfound world, but the Church considers this to be heresy. When Asriel leaves and one of Lyra's friends goes missing, she sets out to find them both, carrying a gift from the Maester of the college, a truth-telling device known as a alethiometer. The device, which looks much like a compass, is very difficult to use or understand for most people, but Lyra shows an extraordinary talent for it as she uses it during a series of adventures to uncover the truth about Asriel, her missing friend, and the nefarious forces at work to cover up and destroy the existence of Dust. It's a thrilling fantasy-adventure story, and unlike many books written for younger audiences, both the older and younger characters are complex; nobody is entirely good or evil, and not everyone or everything is as it seems.
Jillian's Recommendation:
The Curious Incident of the Dog in the Night-time by Mark Haddon
"I like dogs. You always know what a dog is thinking. It has four moods. Happy, sad, cross, and concentrating. Also, dogs are faithful and they do not tell lies because they cannot talk."
Mark Haddon's award-winning debut novel tells the story of Christopher, a 15-year old English boy who is trying to solve the mystery of who killed the neighbor's dog. Christopher is a highly intelligent yet quirky individual who loves patterns and logic and hates the color yellow and being touched. Although he has a fondness for animals, he has a hard time understanding the complexities of human emotions. The lead character exhibits behavior and traits that mimic those common in Asperger's syndrome, but this is never explicitly stated in the novel. While Christopher is wrapped up in the mystery case, he unwittingly uncovers secrets about his family and neighbors. What results is a story that's sometimes sad, sometimes funny, but always believable and never dull. Despite his marked eccentricities, I think everyone will be able to relate to the novel's protagonist on some level.
Steph's Recommendation: The Hobbit by J.R.R.Tolkien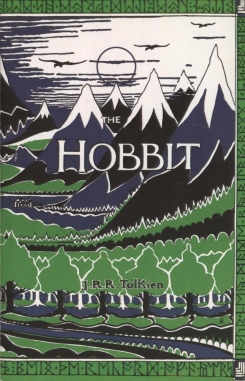 "It's a dangerous business, walking out of one's front door."
Why bother reading The Hobbit if there are three major motion pictures and one animated feature adaptation? Because no movie can match the wit of J.R.R. Tolkien, and no director could really capture your own imagination. This book, and The Lord of The Rings series following it, are incredibly important to the high fantasy genre as a whole today. Often imitated, never replicated, The Hobbit might be slow to start but is a journey filled with both charm and danger in a fascinating world. Also, feel free to put in a movie ticket or gift card to see the final film with this gift. It would make a great bookmark!
David's Recommendation: It's Kind of a Funny Story by Ned Vizzini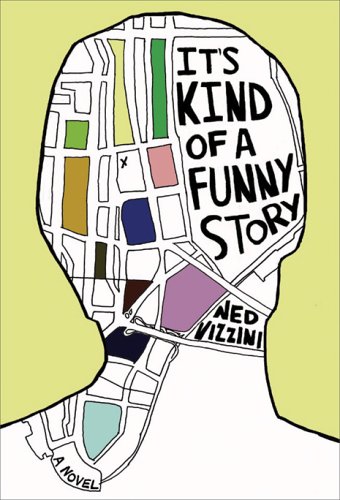 "I can't eat and I can't sleep. I'm not doing well in terms of being a functional human, you know?"
The late Ned Vizzini's tale of a teen's struggle with depression is, as the title suggests, kind of funny, but it's also honest, insightful, and moving. Based on the author's own experiences battling depression, the book tells the story of 15-year-old Craig Gilner's brief hospitalization following a suicidal episode. While in the hospital, Craig makes friends with some of the other patients and learns more about himself and his depression. The novel covers a lot of familiar young adult territory, like romance and the stresses of being a high-schooler, but its thoughtful portrayal of mental illness among teens sets it apart from others of its ilk. It's Kind of a Funny Story made the American Library Association's 2007 list of the Best Books for Young Adults, and it is most definitely worth a read.
Share this post: