It's the time of year when everyone's working hard on their holiday wish list, including us here at OWJ. A while back, we compiled a great list of gift ideas for writers, word nerds, and other bookish types. But there are so many more great products out there for bibliophiles now that we thought we'd put together another list of gift ideas for book-lovers and writers. If someone you love is a fan of the printed page, you can't go wrong with any of these.
Wearable Books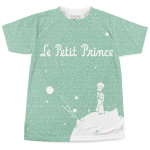 Writing can be a form of art, but Litographs has taken this one step further, turning the text of many classic works of literature into striking images pretty enough to hang on your wall. In fact, they do offer a variety of posters, but the product that stood out most to us was their line of T-shirts. You can literally wear your love of your favorite book on your sleeve, whether it's The Little Prince, Ulysses, or Outlander. They also sell tote bags and scarves.
A Literary Mashup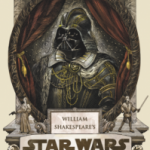 "It is a period of civil war.
The spaceships of the rebels, striking swift
From base unseen, have gain'd a vict'ry o'er
The cruel Galactic Empire, now adrift. …"
So begins William Shakespeare's Star Wars, an adaptation of Star Wars in iambic pentameter, by Ian Doescher. For those on your holiday shopping list who love Star Wars as well as literature, this is sure to be a hit. You can also get the whole original trilogy: Doescher has written sequels William Shakespeare's The Empire Striketh Back and William Shakespeare's The Jedi Doth Return. (He also has versions of the prequels … but those probably won't be as eagerly received by most die-hard Star Wars fans.)
Letter Tycoon
Scrabble is great, but it's not the only board game that's super-fun for word nerds. For the game-loving bibliophile, try Letter Tycoon, a game that's sort of like a literate twist on Monopoly. Players form words using the cards they're dealt and gain cash and stocks for those words, and they also buy patents on individual letters, which they can use to collect royalty payments from other players every time those letters are used. It's a fun game, and it earned Mensa Select status in 2015, meaning that a lot of the nerdiest people out there would recommend it.
A Book Purse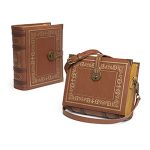 Geeks of all stripes can find things to love from ThinkGeek, but we particularly liked this purse that looks like an old book. It's perfect for toting a wallet, a small paperback, or even an e-reader. If you think the book nerd in your life would rather have a bigger bag that can hold more things (perhaps their entire haul of library books?), ThinkGeek also sells a backpack that looks like a book.
Library Card Socks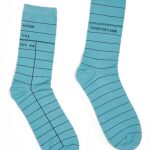 Nowadays, borrowing a book from the library uses bar codes and scanners, but plenty of us remember the time when it involved date-stamped slips tucked into the back of each book and kept in a box at the library's circulation counter. For the nostalgic book-lover, give them these cool socks patterned after those old check-out cards. It's also worth taking a look around the rest of this site, as they sell other bookish sock patterns as well as a lot of other literature-themed items.
Shakespearean Love Mug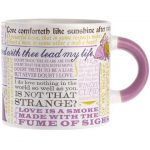 The people at The Literary Gift Company have a lot of cool bookish gifts, including a neat map of London labeled with hundreds of novels, poems, and plays that mention locations there. They also carry a variety of fun mugs for word nerds, including one that looks like lined writing paper and a collection focused on common spelling errors. But to really show your love to someone special, the best choice might just be this mug bearing 21 quotes about love from the Bard himself. They'll think of you and how much you love them every time they curl up with a mug of tea and a good book. (Make sure to buy this one early, though: This company's based in England, so you'll want to get your order in before mid-December to make sure it gets here by Christmas.)
A Tablet/e-Reader Cover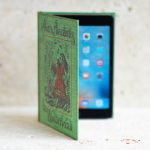 Do you know someone who loves physical books but does more of their reading electronically? If so, get them one of these bookish tablet or e-reader covers, which will protect their device while making it look like a literary classic. They're even made like books, using traditional bookbinding methods, and sizes are available to fit most popular tablet and e-reader models.
The Most Awesome Pen Ever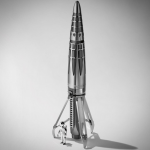 If you're independently wealthy and shopping for a friend or relative who likes to write, get them the Astrograph. It's a $20,000 pen made with rhodium and ruthenium, and it's also a precise model of the rocket used to land men on the moon. It has a retractable landing gear and a teeny-tiny ladder, which can be used by the teeny-tiny magnetic astronaut that comes with it. It even comes with a launch pad display stand. This limited-edition beauty certainly isn't for those with a tight budget, but it is probably one of the coolest pens you'll ever come across.
Share this post: