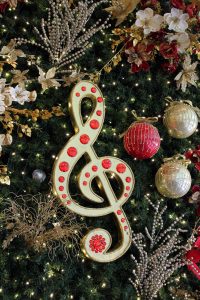 Here's hoping that you like Christmas carols, 'cause at this time of year, you can't escape them. Whether you're driving to work, doing a bit of shopping, or just sitting in a waiting room somewhere, chances are good that you'll hear those same old chestnuts, sometimes comforting in their familiarity, sometimes downright annoying (yes, little Michael Jackson, we believe that you saw Mommy kissing Santa, we do, so shut up already!). But if you actually listen to this seasonal soundtrack, you might start to wonder, "Just what is a spinet, anyway? What is wassail? And why does this song call the Virgin Mary fat?" The confusion tends to be caused by one of two things: pausing in the wrong places or archaic Christmas carol lyrics.
Every Breath You Take (or Don't Take)
When people are singing, they naturally tend to take a breath at the end of a line. But when the lyrics to Christmas carols just don't break down that way, it can get pretty confusing.
Perhaps the most infamous example of this phenomenon is "round yon virgin" from "Silent Night." Who are you calling "round," buddy? But no, this song isn't saying that Mary's overweight. The full lyric is, "All is calm, all is bright 'round yon virgin mother and child." Everything's calm and nice around her, as she's sitting there in the stable with her baby.
Another common mistake (though much less serious than calling someone "round") comes due to one missing comma in a song title and lyric. We all sing, "God rest ye merry gentlemen," with no pause, when it clearly needs one, so a lot of people think it's supposed to be, "God rest ye, merry gentlemen," telling the merry gentlemen to take a break. But no, actually, "rest" here means "allow to remain," and the pause should actually be after "merry": "God rest ye merry, gentlemen. Let nothing you dismay."
Products of Time and Place
By now, most of us have learned the definitions of "myrrh" and "frankincense," which are perfumed resins. But what is figgy pudding? That one's a little trickier. Since a lot of Christmas songs' lyrics were written many, many years ago and some were brought to America from other countries, it's perhaps unsurprising that some of them contain words that we just don't use anymore or never used in the first place.
"We need a little Christmas right this very minute, candles in the window, carols at the spinet …"
A spinet is a small harpsichord that a family might gather around to sing old Christmas songs.
"Don we now our gay apparel … Troll the ancient Yuletide carol …"
"Don" means "put on," and "gay" originally meant "happy," so you should put on your festive, cheerful clothes before you "troll," or "sing loudly and merrily," some Christmas carols.
"Love and joy come to you, and to you your wassail, too …"
Wassailing was the practice of going from door to door singing Christmas songs in the hopes that the people inside would give you wassail, a mulled alcoholic beverage.
"Now bring us some figgy pudding …"
"We Wish You a Merry Christmas" quickly turns its focus from good wishes to demanding a dessert. The British use "pudding" to mean "dessert," especially a steamed cake, and figgy pudding is an English Christmas pudding made with figs. It's pretty tasty, though I don't know if I'd threaten to camp out on someone's doorstep just to get some.
"In the meadow, we can build a snowman, then pretend that he is Parson Brown …"
We don't hear the word "parson" much these days, but it's another word for a minister (hence the comment that he could perform a marriage).
"The horse was lean and lank/Misfortune was his lot/We got into a drifted bank, and then we got upsot."
Not a lot of people make it past the first verse of "Jingle Bells," but if you do, you'll run into this line about how that sleigh ride actually didn't go all that well. "Upsot" is an archaic past tense of "upset," meaning "overturned."
"A pair of Hopalong boots and a pistol that shoots is the wish of Barney and Ben …"
Hopalong Cassidy was a hugely popular cowboy character featured in movies and on TV and radio from the 1930s through the 1960s.
Are there any other Christmas song lyrics that puzzle you? If so, leave them in the comments and we'll try to clear things up!
Share this post: