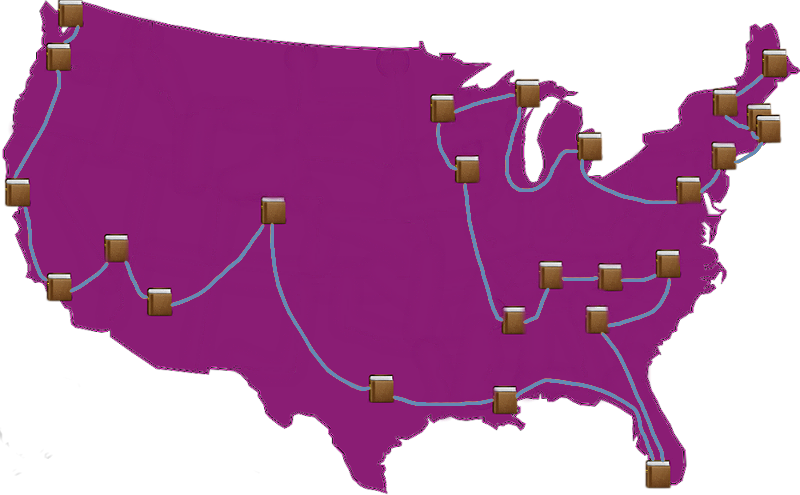 Summertime is here, and for many people, that means planning a summer vacation. It seems like there's a perfect destination for anyone looking to get out of town, whether you're thinking of jetting off to Europe or packing up the family to see "the happiest place on Earth." But if your tastes tend toward the literary, as ours do, you'll be happy to know that you don't need to buy a plane ticket to have a great vacation this summer. We've planned out the ultimate summer road trip for book-lovers, including 25 of the top independent bookstores from coast to coast. Whether you just want to take a few days off to browse at some indie bookstores in your region or you'd rather have a grand adventure and see the whole country, we've got you covered with this list of some of the best bookstores in the U.S., including famous bookstores visited by or even owned by well-known readers and writers.
You'll find plenty of interesting old treasures on the first floor, which is filled with antiques for sale, but the real treasure is on the second floor: a massive selection of books, including rare finds and first editions. Maine's largest bookstore is housed inside an actual old chicken barn, and it's easy to lose yourself amid the stacks for hours at a time.
The layout of this historic building, which was previously an inn for more than a century, invites browsing, and you're sure to find something interesting around every corner. There's a wide selection of books as well as lots of interesting gifts and trinkets, many of which are made in Vermont. If you've got kids in tow, head upstairs to check out the children's section, where you'll find lots of books for the little ones as well as toys to play with or to buy.
Right near Harvard Yard, you'll find this literary institution … or maybe you won't. It's easy to miss, tucked away on a little side street, but upon venturing inside this bookstore, Boston-area bibliophiles are rewarded with an abundance of poetry, from new releases to rare and obscure works. Over the years, this little shop has been a magnet for notable names from Allen Ginsberg to Denise Levertov, and once you take a look around, you'll be able to see why.
Martha's Vineyard is a great place to vacation in its own right, but while you're there, don't miss the Bunch of Grapes Bookstore in Vineyard Haven. It's an inviting place to browse for your next read that prominently features works both about the island and written there by prominent authors. Notable fans include President Barack Obama, who often made Bunch of Grapes one of his first stops when he and his family vacationed there.
A venerable icon among indie bookstores in Manhattan and worldwide, the Strand Bookstore boasts "18 miles of books," and given the size of this multi-floor space, it's a reasonable claim. The Strand has a huge variety of books, from best-sellers to used volumes and rare finds, as well as lots of bookish merchandise. It's also known for its knowledgeable staff: In fact, you have to pass a test about literature to have a shot at a job at this famous bookstore. New York book-lovers can always find good recommendations here, and the Strand even offers a "books by the foot" service that allows you to buy a curated collection of books suited to your tastes (any bibliophile's dream, if you have the money and shelf space).
The nation's capital has plenty of sights to draw your attention, but for bookish visitors, a trip here wouldn't be complete without a stop at Politics and Prose, among the most highly regarded bookstores in D.C. The store is most well-known for its frequent author events; guests have included J.K. Rowling, Salman Rushdie, and presidents Bill Clinton and Barack Obama. For aspiring novelists, Politics and Prose also offers a self-publishing service.
One look at this old glove factory, which still has a faded glove painted on the outside, might not exactly make you think "book-lovers' mecca." But stepping inside is like stepping into a whole other world, a world where getting lost in the stacks is encouraged and entirely possible, especially considering the vast scale of this four-floor store. The King philosophy is decidedly low-tech, so you won't be able to step up to a computerized kiosk to find what you need. But there are maps at the door to help you find your way and phones throughout that you can use to call the front counter for assistance. You can also keep an eye out for the friendly staff in red aprons, who can help direct you to the right shelf. And with their wide selection, including many rarities, you're sure to find whatever you're looking for here.
William Caxton Ltd., Ellison Bay, Wisconsin
Named for the first English-language printer and owned by a former professor, this Midwestern gem is known for its variety of new and used books and supports a small publishing house. Caxton's specializes in good but overlooked books, the types of reads that you might never have heard of but will be glad to have found. The store doesn't have a website, but you can give them a call at (920) 854-2955.
It's perhaps unsurprising that Garrison Keillor, the voice behind The Writer's Almanac on public radio, would own a bookstore. Though Keillor's a much less popular figure nowadays, Common Goods Books, with which he is not involved on a day-to-day basis, remains a very popular place with bibliophiles, including students of the adjacent Macalester College. The store is known for its wide selection of poetry, tucked away in a homey space strewn with hand-written recommendations written by the knowledgeable staff.
In a city that's home to one of the country's most highly regarded creative writing programs, the Iowa Writers' Workshop, only a great bookstore will do, and Prairie Lights certainly fits the bill. This local landmark draws literary luminaries from all over the globe to speak here, from Toni Morrison to Orhan Pamuk to Annie Proulx. The café is popular, too: Be sure to try the Black Rider, a dry cappuccino with caramel and black sea salt.
When one building can't contain the bookish delights, just take two, or even three. That's what Square Books did, occupying three historic buildings in the town that's known as the home of William Faulkner. The main building contains a wealth of literary and Southern fiction as well as a cafe; the second building, called Off Square, focuses on used books and collectible editions; and the third building, Square Books Jr., houses their children's offerings. All three are located right on the historic town square.
When the last of the Nashville bookstores closed and none opened to take its place, author Ann Patchett took things into her own hands, joining the ranks of authors who own bookstores by opening Parnassus Books with publisher Karen Hayes. It's a good-sized store with a healthy selection of signed books. Be warned if you have allergies, though: The store has "shop dogs," so you'll find canines present at all times.
The friendly, knowledgeable staff is one thing that sets this indie bookstore apart, but it's also known for the number of big-name writers who come to speak to bibliophiles in this small city. Malaprop's was also the first Southern bookstore to be named the best bookstore in the country by Publishers Weekly, earning this honor in 2000.
This beloved bookshop has a large selection of dirt-cheap used books: You can pick up a great read for as little as a dime or a quarter from the wall outside. It's also a good place to find books you can't find anywhere else. Get lost in the overstuffed stacks of this cozy shop, but don't forget to look up at the walls, where you'll find décor consisting of things that have been found inside used books.
Bring the littlest bookworms to the Little Shop of Stories and they'll be treated to a feast for the eyes, as the place is filled with cool murals and fun toys as well as a ton of children's books. Don't forget to look down, too: The flooring is made of pennies! Story times are scheduled frequently, and they also offer book clubs for kids of all ages. You can have a birthday party here, too, and they even offer summer camps! But while this is one of the best bookstores in America for kids, grown-ups aren't entirely left out: There's a good selection of YA and adult books, too.
Among authors who own bookstores, perhaps none is more beloved than Judy Blume. Millions have read and loved books such as Tales of a Fourth Grade Nothing and Freckle Juice, but in recent years, Blume has found herself a new calling as a bookseller, opening up shop in 2016 to address a lack of bookstores in the area and quickly drawing a following. This nonprofit independent bookstore is located inside of The Studios of Key West, an arts center housed in an old Masonic lodge, and it carries a wide variety of books, from graphic novels to works focused on Key West. And Blume isn't just a financial backer: She takes a hands-on approach, working regular shifts at the store and setting up displays herself.
William Faulkner's roots run deep in the South, and in New Orleans, you'll find the Faulkner House, where the writer once lived with artist William Spratling. Today, the four-story yellow house is home to one of the most popular New Orleans bookstores, Faulkner House Books, a landmark for his fans as well as a destination for book-lovers. It's a small first-floor shop packed full of books, especially works by Faulkner and other famed Southern writers, and it's said to be haunted by the author himself.
You'll find the largest bookstore in Texas located in Austin, and BookPeople is also known for being one of the most beloved bookstores in the state. This two-floor space is home to a wide selection of books and magazines, including offbeat reads you won't find at your run-of-the-mill chain booksellers, plus a coffee shop. It's a great place to lose an afternoon wandering and browsing.
Take a seat on an overstuffed chair or comfy couch at this cozy, welcoming shop and tuck into a good read: There are certainly plenty to be found here, both new and used. One of the best things about the Tattered Cover Bookstore is its inviting atmosphere, in a large, library-like space suffused with old-book smell (in a good way). There's also a coffee shop that gets rave reviews, so you can fuel up and stay a while.
It's no mystery where one of the best genre-focused independent bookstores in the country is: It's right here, in Scottsdale, Arizona. At The Poisoned Pen, they carry a bit of everything, but their main focus is mysteries and crime novels. It's also known as the favorite book shop of Diana Gabaldon, writer of the popular Outlander series, and you'll find plenty of her works there as well. You might even find the author herself: She's a frequent customer and will often stop to sign some of her books while she's there.
When you think of downtown Las Vegas, you might think of neon lights, the cacophony of slot machines, or famous acts on stage, but Sin City is also a good place for bookworms, thanks to The Writer's Block. At this small bookstore, Las Vegas residents and visitors can find a good selection of books and book-related gifts amid the quirky decor, and you'll also find an "artificial bird sanctuary" where you can "adopt" a bird. But perhaps the most popular fixture of the store is Baron, the bookstore bunny (ask nicely and you might get to pet him).
At California's biggest indie bookstore, Los Angeles residents and visitors can find an array of new and used books as well as records. The first floor might make it seem like a typical bookshop, albeit in a vast, classy-looking space (it used to be a bank), but venture upstairs and you'll quickly get lost in the bookish surroundings. You might stumble upon a tunnel made of books, find a hidden room of used volumes, or come across a flurry of flying books erupting from the shelves. You'll also find quirky touches like a section of hardcovers arranged by color and a vault filled with crime novels (perhaps you'll find one about a bank heist?). And throughout the Last Bookstore are works of art made from old books.
Without a doubt one of the most famous bookstores owned by a writer, City Lights Bookstore in San Francisco is a mecca for fans of poetry, progressive literature, and/or the Beat generation. The store was opened in 1953 by poet Lawrence Ferlinghetti, and in 1956, Ferlinghetti's City Lights Books published Allen Ginsberg's Howl and Other Poems, sparking an obscenity trial that would lead to a landmark court ruling in favor of free speech. The attention from this case helped make a name for City Lights as well as the Beats, and today, people still make the pilgrimage to this famed bookstore to see where it all started. Though you won't often see Ferlinghetti himself at his famous bookstore, San Francisco visitors will find plenty of books that you might not find anywhere else, including works on philosophy and spirituality as well as a healthy selection of poetry.
The flagship Powell's bookstore in Portland, also called Powell's City of Books, boasts that it's the biggest independent bookstore in the world, and with an inventory of around a million books, they might just be right. One of America's most famous bookstores, Powell's is so big that you might need a map to find your way through the stacks — thankfully, they'll offer you one. The inventory of this famed Portland, Oregon, bookstore is a mix of new and used books, all shelved together, and no matter what you're looking for, they're bound to have it here.
This place has just about anything you could want from an indie bookstore: a welcoming space, comfy chairs, a great selection of books, and a cafe with great sandwiches, pastries, and coffee. It also hosts a free reading just about every day, often featuring some of the top names in the industry. It might be located not far from the home of Amazon, but its cozy feel and frequent events help Elliott Bay to hold its own, showing that there's still a place for independent bookstores in the hearts and budgets of book-lovers.

Share this post: